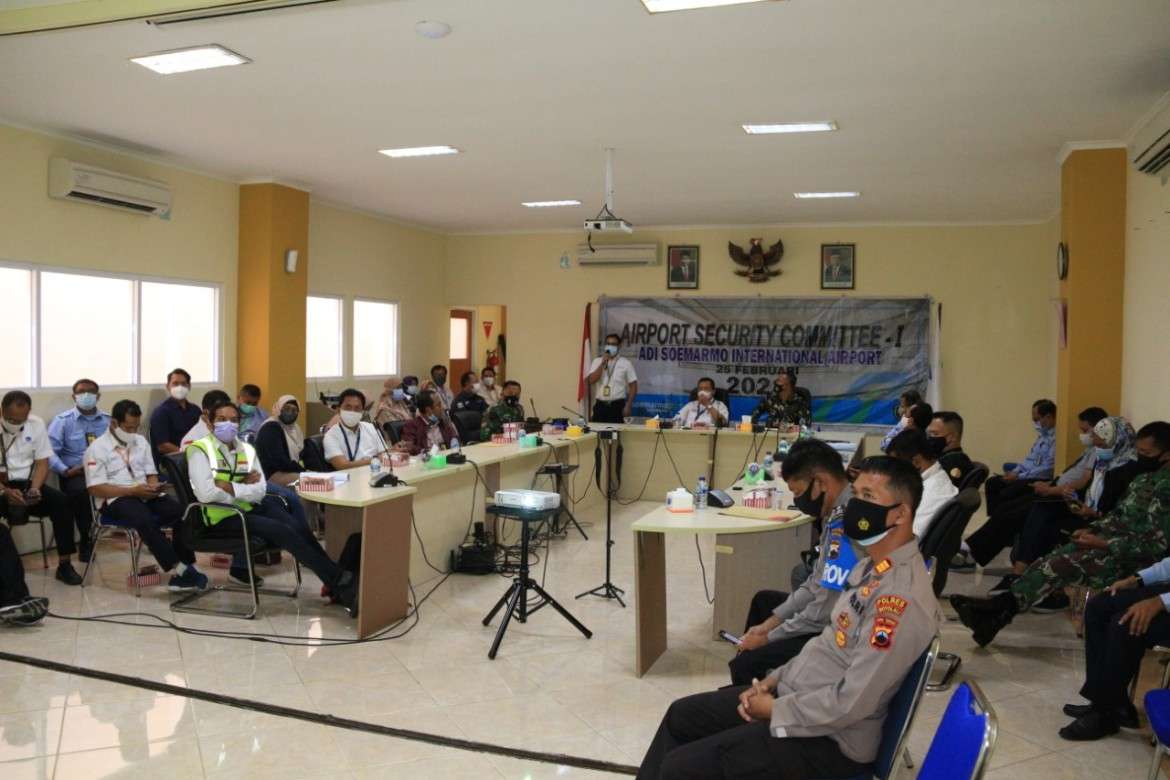 Efforts to provide a feeling safe and protection from illegal actions at airports and in the form of providing Safety, Security, Service and Compliance (3S + 1S), Airport Security PT. Angkasa Pura I Adi Soemarmo Airport continues to coordinate with the Air Force, Army, Police, Airnav, Airlines, Customs, Immigration, Health Quarantine, Fish Quarantine, Agricultural Quarantine, Pertamina, Groundhandling and a subsidiary of PT. Angkasa Pura I (Persero) through the implementation of Airport Security Committee Meetings which are held at least 4 times a year.
" Airport Security Committee I for 2021 aims to make all committee members understand and realize the importance of a security culture at airports and create a culture of security in their organization," explained Yani Ajat Hermawan as a General Manager of Adi Soemarmo Airport.
Yani Ajat also explained that this activity refers to the International Civil Aviation Organization / ICAO in 2020 establishes effort to increase security awareness and security culture which are made as aviation security priorities as the Year of Security Culture (YOSC) which is due to the Covid-19 pandemic which is then extended to Year 2021. To ensure the success of the Year of Security Culture (YOSC), ICAO focuses on priority activities of implementing a global security culture campaign, collaboration intensifying with Country and Industry, Publishing relevant guidelines on strategies, plans and practical security culture communication campaigns and training offerings and assistance in the promotion of an effective and sustainable safety culture in all organizations involved in Civil aviation.
In support of the determination of the Year Of Security Culture (YOSC), PT. Angkasa Pura I (Persero) Adi Soemarmo International Airport implements a Security Culture by forming a Security Culture Team for implementation at the airport.
The success of this implementation cannot be separated from the support of stakeholders at the airport, we hope that all people or entities at the airport can become a pioneer in creating a culture of security at the airport and its organization by seeing something say something_cause Security is everyone's Responsibility, explained Yani Ajat.
As a form of stakeholder support in implementing a security culture at the airport and in this event a joint commitment was signed.